Radon Testing in London, Windsor, Sarnia, Chatham-Kent, St Thomas, ON
Take the first step to find out if radon is a problem in your home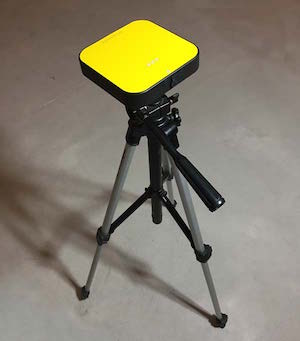 Are you at risk from radon? A continuous radon monitor can accurately measure the concentration of radon gas in your home to determine if mitigation is necessary.
Nearly every home in Canada has some level of radon. The level in your house can be different than the level in your neighbor's house. The only way to know if you have a radon problem is to test your home. Health Canada recommends installing a long-term test device for at least three months.
Advanced Basement Systems can provide you with services from a certified radon measurement professional, who will install a radon detector in your home and provide a report of the measurement results once the test is complete.
Radon testing is simple and inexpensive. If you have questions about the best option for testing your home for radon, call us today!
Options for Radon Testing
Devices for long-term measurement
Alpha track detector: These detectors use a small piece of special plastic or foil inside a container. The air being tested diffuses (passive detector) or is pumped (active detector) through a filter covering a hole in the container. When alpha particles from radon and its decay products strike the detector, they make microscopic tracks in the surface of the foil. At the end of the test period the container is sealed and returned to the laboratory for reading. The radon exposure duration of an alpha track detector is usually 1 to 12 months.
Devices for short-term measurement
Activated charcoal absorption: These short-term radon testing devices use an airtight container filled with granular activated charcoal. The detector is exposed to the air for a specific period of time. The charcoal absorbs the radon gas from the surrounding air. At the end of the test period, the container is sealed and sent to the laboratory for analysis. Charcoal detectors should not be used in areas with high humidity or drafts. These detectors are normally deployed for measurement periods of 2 to 7 days.
Continuous radon monitoring (CRM): This type of radon testing includes devices that record real-time continuous measurements of radon gas over a series of minutes and report the results in hourly increments. The air being tested is pumped or diffuses into a counting chamber. These detectors are normally deployed for a minimum of 48 hours. The results of the test are available immediately following the test period without any additional analysis required.
Digital detectors: This type of detector plugs into a standard wall outlet much like a carbon monoxide detector, and continuously monitors for radon. It is a passive device based on an ion chamber. It allows one to make radon measurement in different rooms or areas. After being plugged in for an initial period of 48 hours, the device displays the average radon concentration continuously.
Depending on your radon test results, our specialists can decide if further action is required in your home. We will install a customized radon mitigation system.
Call today for a radon testing appointment. We offer free quotes to have a radon mitigation system installed. We service Windsor, London, Sarnia and the surrounding areas.
Looking for a price? Get a no cost, no obligation free estimate.