Spray Foam Insulation Installation in Chatham, London, Windsor, and Sarnia
Local contractors installing spray foam in ON homes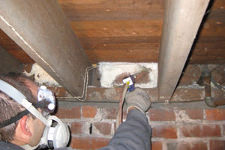 If your home is drafty and uncomfortable at certain times of the year, spray foam insulation may be able to solve both of these problems, while also cutting your heating and cooling expenses. Spray foam has unique characteristics that enable it to outperform fiberglass insulation in many applications. For example, fiberglass can't prevent cold air infiltration through cracks and gaps in exterior walls. But spray foam does an excellent job of sealing these leaks, while also providing high insulation value.
Application expertise is important when considering spray foam insulation
Unlike fiberglass insulation, which can be installed by unskilled laborers, spray foam demands special equipment and application technicians with training and solid experience. That's why it's smart to contact Advanced Basement Systems for expert application of spray foam insulation.
Exceptional R-value, plus durability and impermeability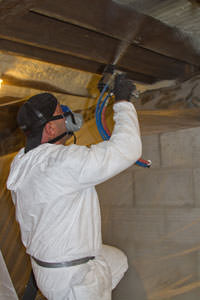 At Advanced Basement Systems, we install closed-cell spray polyurethane foam (SPF) that weighs about 2lb. per cubic foot. Unlike open-cell spray foam that has a spongy, absorbent texture, closed-cell SPF doesn't absorb moisture and will effectively block air and moisture movement. It has another advantage as well: higher R-value. Our spray foam rates at least R-6 per in., compared with fiberglass at R-3.4 per in. and open-cell SPF at R-3.5 per in.
Closed-cell spray foam is best for your basement and crawl space
Insulating with spray foam is more expensive than insulating with fiberglass. But spray foam's superior performance convinces many homeowners to choose SPF for a comfort and energy efficiency upgrade. We recommend sealing and insulating the rim joist in all basements and crawl spaces with our closed-cell spray foam. SPF is also appropriate for use as wall insulation in certain applications.
Looking for a price? Get a no cost, no obligation free estimate.