Crawl Space Insulation Experts in Southwestern Ontario
Prevent mould, moisture & comfort problems with the right insulation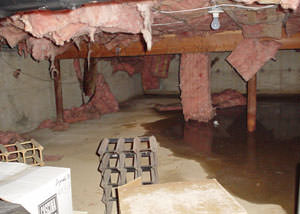 Fiberglass insulation in a crawl space tends to soak up moisture and humidity, growing mould and eventually causing it to "drip" off the ceiling.
Crawl space insulation is important. A number of comfort and energy problems are caused by inadequate or incorrect crawl space insulation.
The crawl space can be wet and damp, so the insulation installed must be able to hold up in these conditions. We recommend that you consider installing a vapor barrier along with the right insulation to prevent mould and moisture problems and keep your home comfortable year-round.
When you count on Advanced Basement Systems for your crawl space insulation needs, we will send out an expert technician to inspect your crawl space and recommend the right services. We have the tools and experience to seal air leaks and install high-performance insulation to help improve your home's comfort and energy efficiency.
A healthier crawl space is just a phone call away!
Contact us today for your crawl space insulation quote! We serve Chatham, Sarnia, Windsor, London and many surrounding areas.
Our options for crawl space insulation
The crawl space insulation materials that we install are compatible with our crawl space encapsulation and drainage systems to ensure a dry, healthy, comfortable crawl space!
TerraBlock™ crawl space insulation was developed to meet the challenge of insulating rough, uneven crawl space floors. However, this innovative insulation is versatile enough to be used on foundation walls as well. The ¾-in.-thick sheet material is covered on both sides with a durable moisture barrier that makes the insulation resistant to puncture and abrasion damage.
When you install TerraBlock™, you get insulation and moisture protection from a single product. When installed over a crawl space floor, TerraBlock™ also provides a cushioned surface that service professionals and homeowners will appreciate when moving around in the crawl space.

Read More About TerraBlock™ »
TerraBlock™ Specifications
Padded, Insulated Design -- TerraBlock™ is made of ¾" of foam insulation. It's padded, puncture-resistant, and durable enough for access by servicemen and homeowners.
Installs On Walls & Floors-- TerraBlock™ is available in rolls and fan-fold sheets, providing installers with different installation options to suit varying crawl space conditions. TerraBlock™ is appropriate for crawl space walls and floors.
Compatible With Our CleanSpace® System -- TerraBlock™ can be used as a standalone product, or it can be combined with our CleanSpace® Vapor Barrier, CleanSpace® drainage matting, SmartPipe™ French Drains and other products.
---
POLARFOAM 7300 Spray Foam provides an effective insulation, air, and vapor barrier solution when applied in the crawl space.
The closed-cell spray foam is waterproof and will not absorb or be damaged by moisture that is common in a crawl space. To improve your comfort and provide maximum energy efficiency, we can install Polarfoam spray foam insulation on the perimeter of your floor framing system (rim joist).
For the best in energy efficiency, combine Polarfoam and TerraBlock™ together. This keeps the cold out of your crawl space -- and the heat in!

Read More About Polarfoam »
POLARFOAM 7300 Specifications
Superior Air Barrier -- Closed-cell rigid polyurethane foam material exceeds 500 times the requirements of the National Research Council of Canada as an air barrier material.
Extra Insulation -- Polarfoam has an R-6 per inch insulating value to keep more heat in the crawl space and home.
---
Fiberglass insulation is NOT the answer
Far too often, we see crawl spaces vented, with fiberglass insulation on the ceiling.
Crawl space vents bring humid air into a home during the summertime, where it's cooled in the crawl space.
As this air cools, the relative humidity of the air rises, and the excess moisture is left on surfaces in the crawl space in the form of condensation.
Some of this moisture ends up on the fiberglass insulation in your crawl space. Wet or damp fiberglass insulation does not insulate as well as dry insulation, and the added weight will pull it from the ceiling, leaving it in messy, useless piles on the floor.
Wet insulation can actually become a food source for mould and rot--which will also grow on any other organic material in your crawl space--including your wood framing.
Additionally, while you're insulating your floor, you probably have utilities in your crawl space, such as your water heater, furnace, heating ducts, and hot water pipes. If you allow the cold winter air into your home through crawl space vents, these heat-generating utilities will be forced to work that much harder.
In short--crawl space vents and fiberglass insulation simply do not work!
Contact Us for a Free Estimate!
Advanced Basement Systems services Stratford, Windsor , Leamington, St Thomas, Amherstburg, Strathroy, Essex and many nearby areas in Ontario.
Looking for a price? Get a no cost, no obligation free estimate.