The FlowGuard®: Thin Floor Basement Drain System
A Drain System Designed To Be Installed Beneath Thin Concrete Floors
Although adding a drainage system is necessary for many basements, homeowners are understandably concerned about the appearance of the installed system. For basements where a standard drain system is too large, we have the FlowGuard Thin Floor Drain System.
This system fits smoothly underneath thin floors, providing a clean, finished appearance. The Thin Floor Drain System is equally as effective as any of our other drainage systems.
Our drain system is the ideal way to waterproof a basement with a thin concrete slab floor. To schedule a free drain system installation quote, contact us by phone or e-mail today! We're proud to serve the Ontario area, including Sarnia, Windsor, London and nearby.
What It Does:
For most basements, we recommend jackhammering the perimeter of the basement floor and placing a French drain system on top of the foundation's footing.
However, if a concrete floor slab is very thin, a standard drain will not be able to sit on top of the footing. If it does, it will extend too far up above the floor slab.
In cases like this, we'll usually recommend our FlowGuard Thin Floor Drain System. This is a thin, modified form of our typical drain system that can be installed in front of the foundation footing.
This drainage channel is designed to collect water from the basement walls via a wall flange. This flange directs collected water to a drain system that rests in a bed of clean drainage gravel.
Advantages To Our System:
Fits Easily Under The Floor Slab
A Wall Flange Collects Water From Walls
Ideal For Thin Basement Floors
Avoids Issues With The "Mud Zone"
Fast, Effective Installation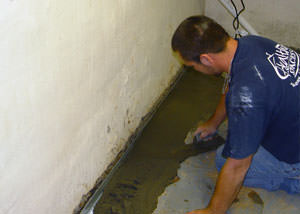 We restore your floor! Once our installation crew has installed your drain system under the basement floor, we'll restore the removed portion of the slab with fresh concrete.
Addressing The "Mud Zone"
Since this drain system is installed in front of the foundation footer, it exists within the "mud zone", where mud under the floor can potentially clog the perimeter drain.
To avoid any issues, we install a thick layer of drainage stone underneath and around the drain. The unique design of this drain system also helps this system avoid clogging issues.
Flooding Through Floor Cracks
While most floor cracks will stop leaking once a drain system has been installed, we can customize your system to address areas of concern.
In cases where a large crack has become a concern, we can create a lateral line under the floor. This drainage line runs from the crack to your sump pump system, redirecting the water before it can flood up onto your visible floor surface.
We Have A Simple Solution For Waterproofing Thin Floors!
Our experts can repair your wet basement quickly -- with most waterproofing system installations taking one, perhaps two days. Once your installation is complete, we'll provide you with a written lifetime warranty. This warranty is transferable to the next owner of the home -- which gives you a big advantage when selling your home!
Our experts are standing by to help you waterproof your basement! For a free basement waterproofing quote, contact us by phone or e-mail today!
Our free quotes are offered to homeowners within our service area (the Ontario area, including London, Windsor, Sarnia, St Thomas, Chatham-Kent, Leamington, Stratford, Amherstburg, Strathroy, Essex, Wallaceburg, Hanover, Kincardine, Point Edward, Tecumseh and many areas nearby). Each quote includes an on-site inspection and measurement of your basement, a consultation where we make recommendations and answer all your questions, and a customized, written cost quote.
Looking for a price? Get a no cost, no obligation free estimate.