Waterproof Basement Flooring Options in Southwestern Ontario
For a drier, more comfortable floor surface in your basement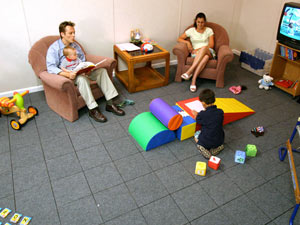 By solving the problem of the cold, damp floor, your basement can be turned into valuable living space for you and your family to enjoy.
Your basement is valuable space and a place that can be turned into comfortable living space for far less money than building an addition. At Advanced Basement Systems, we install specialized basement flooring that makes it possible!
All of our basement flooring products, like the ThermalDry Basement Floor Matting System, are made without organic materials, like wood, so they will not support mould growth. We install these products exclusively as the authorized dealer in Windsor, London, Sarnia and nearby.
For a free basement flooring consultation and quote, call us at 1-844-320-1542 or or e-mail us today.
Our Basement Flooring Products
The floor of the basement is cold, hard concrete. Because it sits on damp, cool earth, it is cold and uncomfortable. To make matters worse, concrete is porous and allows water vapor to pass through. This moisture makes it feel even colder, causes carpeting to rot, allows mould to grow, and causes the basement to smell musty.
The flooring systems that we install are specifically designed for the basement, and will never rot, corrode or deteriorate. Your stored items will not be ruined by the damp concrete floor, and your floor will be dry and comfortable, so you can use the space for a bedroom, playroom, office or recreation. When combined with basement waterproofing, our flooring solutions are a great way to make the most of this space!
At Advanced Basement Systems, we're proud to provide several different basement flooring options with a variety of color and texture choices:
ThermalDry® Basement Subfloor Matting

ThermalDry® Basement Floor Matting is perfect for homeowners who want to install wall-to-wall carpeting in their finished basement. By installing this underneath your carpeting as a subfloor, you protect it from moisture from the concrete below.

Advantages over wood subflooring:
ThermalDry® Basement Floor Tiles

ThermalDry® basement floor tiles are engineered specifically for basement environments. Unlike ceramic basement floor tiles, ThermalDry® basement flooring will never crack or shatter.

Available in Sandstone and Canyon Beige.

Advantages Over Stone, Ceramic, and Marble Tile:
ThermalDry® Carpet Basement Floor Tiles

ThermalDry® carpeted floor tiles are designed to keep your basement floor warm and dry. Unlike a long blanket of carpeting, damaged or worn tiles can easily be replaced.

Available in Charcoal and Mocha designs.

Advantages Over Traditional Carpeting:
Looking for a price? Get a no cost, no obligation free estimate.